30 Jul

3 reasons to spend your gap-year in Florence

Are you thinking of doing a TEFL Course in Italy? Florence is one of the most wonderful cities in Europe, full of art, history, beautiful architecture and tasty food. There are hundreds of REASONS WHY YOU SHOULD HOP ON A PLANE AND GET INTO CITY LIFE, but we have selected the top three reasons to spend your gap-year in Florence, as it's a fantastic place to live and work as a TEFL teacher!
1. Get to embrace the local culture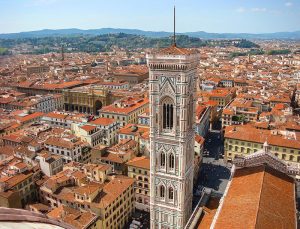 In Florence, tourist spots do come with a price tag, but living as a local is more than affordable on a TEFL teacher's salary! Of course you need to visit important and touristic places, but once you get to know the most emblematic attractions, you will also find that many cultural, national and local events and celebrations take place in Florence, like the Chocolate Festival, the international Festival of Lilies, or the Ice Cream Festival.
Instead of going to restaurants, markets and local produce are a great way to practice your Italian, plus picking up some of the finest ingredients to cook with each day. Before you know it, you'll be giving Gino D'Acampo a run for his money in the kitchen. Nor should we overlook the beauty of landscapes that Florence offers. The city is located in the center of a basin surrounded by three hills, and the Arno River.
2. Discover the Mediterranean lifestyle
By spending a year in Florence ( and of course the magical cities nearby)  you will understand how the streets are structured, the funny humor of the people, their way of seeing the world and  you will get to try its wide and delicious gastronomy… Everything is different but you will end up feeling like Florence is home. Some of the things you will discover in Florence are:
Going for a walk instead of exercising.
The Mediterranean diet.
Their simply way of living.
Lots of laughter!
3. Burst with creativity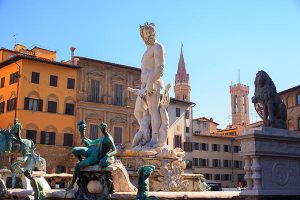 For lovers of sculptures, paintings, music, literature and fashion, Florence is the ideal spot. The city boasts exquisite pieces such as Michelangelo's David, Botticelli's Venus, Palazzo Vecchio, Marino Marini's collection. You can download the Florence Art and Culture Travel Guide to stay on top of what´s happening as well as getting museum tickets…. In addition, some places of interest that you can visit are:
Uffizi Gallery
Cathedral Santa Maria del Fiore
Bargello Palace
Piazza della Repubblica
The Garden of Archimedes
If you want to know more about this fantastic city and start your European adventure in Florence, take a look at our TEFL course there. Check out our Facebook and Instagram page for more information or if you have any questions!