29 Jun

Things you should know before moving to Costa Rica

Moving to Costa Rica seems like a dream come true. Although the beaches are calling your name, you will need to prepare properly before the big move. Let us help you out with the transition. Here are some things to know before moving to Costa Rica.
Transportation
One of the best ways to get around in Costa Rica is the bus system.  It is also a great way to view the beautiful country. The buses are inexpensive and modern.  The inter-province train system is also a great way to travel in Costa Rica. It connects with parts of the Greater Metropolitan Area and is expected to expand in the upcoming years to make trips to the Caribbean and the Pacific. Renting a car will also be a good option for short-term visitors to easily navigate throughout the country.
Where to live
There are many options on where to live in Costa Rica, with the country being spilt into five sections. You can choose from the Central Valley, Gold Coast, Arenal, Southern Zone, and Central Pacific. Expat communities are popular in towns such as Jacó, Uvita, Atenas, Grecia, and Viejo.
An interesting fact about buying real estate in Costa Rica is that locals and foreigners have the same rights. Property ownership is protected by the constitution! You do not need to live in Costa Rica to buy property; a tourist visa is enough to purchase a house.
Healthcare
The state-run healthcare is called Caja Costarricense de Seguro Socia, but most people refer to it as Caja. All citizens and legal residents have access to healthcare, but have to pay a low monthly fee. Proof of Caja coverage is also required to purchase property. Tourist will not be turned away from Caja in the case of emergency, but getting adequate health insurance before coming to Costa Rica is encouraged. At TEFL Connect, we are here to support you through the move and will advise you on how to get insurance to cover healthcare in Costa Rica.
If you have any suggestions about things to know before moving to Costa Rica, comment on our Facebook page!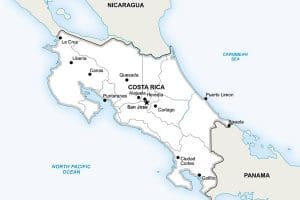 Learning the Language
The locals in Costa Rica are known for being very friendly, but it's difficult to form friendships when you find it hard to communicate. Speaking their native language, Spanish, will help you bridge the gap and make friends. Here is a list of basic phrases to get you started!
Hello: ¡Hola!
Welcome: ¡Bienvenido!
Thank you: ¡Gracias!
You're welcome: ¡De nada!
Sorry: Lo siento
What is your name: ¿Cómo te llamas?
Yes: Sí
No: no
Can you help me: ¿Puede ayudarme?
Water: Agua
If you want to learn more about Costa Rica, then check out of TEFL in Costa Rica page!