18 Aug

Top Attractions in Chiang Mai, Thailand

Chiang Mai is the largest city in Thailand and a magical location to live and work. Here are our recommendations of top things to do during your TEFL course in Thailand!
Visit Wat Phra That Doi Suthep, the most sacred pilgrimage spots
Wat Phra That Doi Suthep is considered to be one of the most sacred pilgrimage spots in Thailand due to its relic as well as the influence from Chiang Mai being the centre of the Lanna Kingdom back in the 14th century. The wat (temple) hosts up to 120,000 visitors per month. It lies approximately 12km outside of the city centre and stands over 1000 metres above the city.
The views from the top are indescribable, you can look down upon the whole city of Chiang Mai. The locals are so proud of the temple, most taxi drivers will ask if you want to go there before you tell them your journey! This 13th century temple is home to the Emerald Buddha and a shrine to the White Elephant shrine, a legend dating back to the 14th century.
You will need appropriate footwear and clothing for this trip, it's approximately 300+ steps or a hike up the monks trail to reach the pagoda, alternatively you can take the tram however this does get busy so be prepared for a short wait in the warm sunshine.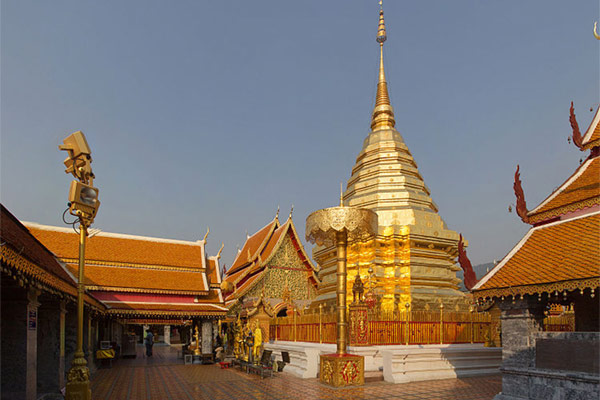 Visit Tweechol Botanic Garden, one of the largest botanical gardens in all of Thailand
This privately owned garden was founded in the 90's by a couple who have a passion for plants, trees and all things botanical! Spanning an impressive 114 acres it's one of the largest botanical gardens in all of Thailand.
You're surrounded by exotic plants, bonsai, orchids, tropical species with such an array of colours, scents and textures, it's a really feast for the senses. There's also a large pond which is a lovely place to relax part way through your trip, it's well maintained and bursting with life.
If topiary is more your thing, you'll find bushes and trees that have been perfectly manicured to resemble figures and shapes, it's fun to identify as many as you can whilst you meander through.
Wild animals are present in the gardens too! You can find deer, camels, swans, ostrich and more living in the expansive grounds.
It's best to visit earlier in the morning whilst the sun is lower, giving yourself plenty of time to see everything as it is such a large garden.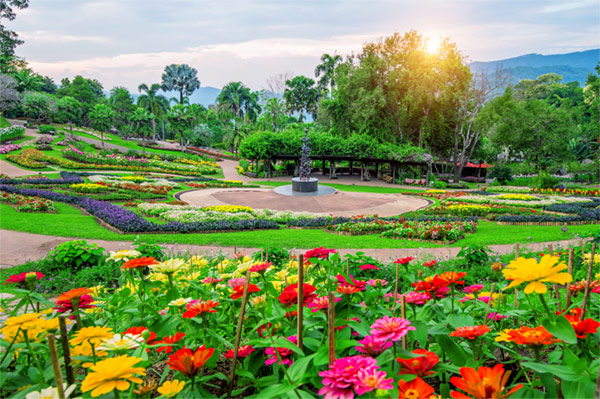 Eat Khao Soi, a delicious coconut curry based soup
The cuisine in northern Thailand is very different from the south due to it's cultural influences from Laos, Burma and China. The cooler climate means you'll find many different varieties of vegetables, herbs and seasonings. Khao Soi is a must-try in our opinion! It's a coconut curry based soup, brimmed with egg noodles and chicken, whilst seated perfectly on top you'll find crispy fried noodles, bringing texture and flavour to the dish. You'll be served a side plate with raw red onion, pickles and usually lime to add to your taste. Thai food is the perfect balance of sweet, sour, salty, hot and umami. A real foodie treat!
There are many cooking classes and food tours you can book whilst you're in Chiang Mai, so take advantage of trying as many new dishes as you can during your stay!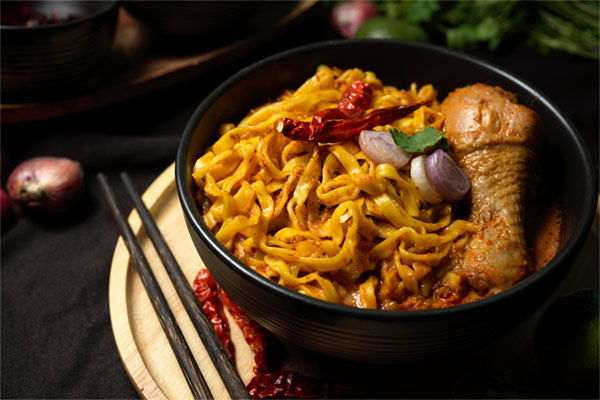 Explore Warorot Market, a fascinating market
Located in Chiang Mai's "little Chinatown" Warorot Market was one of the most fascinating markets we found. This is more of a local market, where residents shop daily. Prices are lower and there aren't half as many tourists visiting as other markets.
You will be amazed by the variety of things to buy, from fresh fruit and seasonal vegetables to clothing, jewellery and souvenirs! There are also hand-made goods made by the local "Hill Tribe" of Chiang Mai. Once you're done, it's time to stop on the ground floor for some refreshments. A favourite among many locals and visitors is sai ua – a northern Thai sausage, or the infamous dam rong – fried pork. There's an abundance of vegan and vegetarian options to choose from also, there's something for everyone!