13 Feb

Valentine's day traditions around the world

With one of the worlds' most widely-celebrated traditions fast approaching, people of all nationalities are beginning to prepare for St. Valentine's Day on 14th February, the annual celebration of romantic love.  Keep reading to discover more about Valentine's Day Traditions around the world.

Even though Valentine's Day is marked by countries all over the world, its origins continue to be mysterious. We do know that the tradition of Valentine's Day is named after Saint Valentine, however there are many different stories about who Valentine was and exactly what he did that made him so memorable all these centuries later.

Legend has it that when, Claudius II (Roman Emperor from 268-270 AD) banned marriage for all Roman soldiers, Saint Valentine, a Roman Catholic priest, conducted Christian marriage ceremonies for them in secret. When he was discovered, it is said that Valentine was imprisoned and later killed on 14 February, which explains why this date was significant. Some say that whilst in prison Valentine left a farewell letter for the warden's daughter, whom he had befriended, signed 'Your Valentine'. This is reportedly where the tradition of sending Valentine's cards originates.

Whatever the belief, it is clear that the legend of Saint Valentine transcends history as a heroic and romantic figure who acted against injustice in the name of love. It is his legacy – whoever he really was – that we now honour our loved ones on 14th February.

Even though Valentine's Day is universally recognised, many countries have their own unique and distinctive traditions. So, join us for a whistle-stop tour across the globe to find out how love is celebrated in five of our TEFL destinations.
Valentine's day traditions in italy
Valentine's Day – La Festa Degli Innamorati
Happy Valentine's Day! – Buon San Valentino!
Traditional Italian Valentine's Day dishes and celebrations
Italy, the birthplace of Valentine's Day, has many traditions both old and new. In ancient Rome when Juno, the Goddess of women and marriage, was celebrated on 14 February, it was custom for couples to get engaged on this day. Nowadays exchanging gifts is a popular tradition, especially if it includes the famous Baci Perugina chocolate. A more public declaration of love is for couples to attach a padlock, inscribed with their names, on to a bridge, railing or lamp post. This remains a popular tradition despite being banned by authorities for safety reasons and for spoiling the beauty of the bridges. A traditional celebratory meal involves a mixture of cold meats and cheeses, a succulent main dish and of course, pasta. Take a pick from any of Italy's traditional dishes, add some candles, and you are set for a fabulous evening. Buon Apetito!
Our recommendations for Valentine's Day in Italy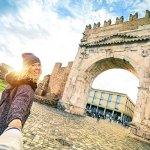 Do you want to see how the Italians celebrate? Make your way to Verona where Romeo and Juliet's love story begins, to experience a festival which offers live music, romantic lights, Italian dinners and much more.
Do you want to learn more about Italian culture whilst gaining a new skill?
Click here for more information on our TEFL program in Italy.
Valentine's day traditions in France
Valentine's Day – La Saint Valentin (La fete de Saint Valentin)
Happy Valentine's Day! – Joyeuse Saint Valentin!
Traditional French Valentine's Day dishes and celebrations
The tradition of letter writing and commercialisation of Valentine's Day is less evident in a lot of non-English-Speaking countries, but in France people show their love 'de vive voix' (in person). A weekend away or a romantic supper 'a deux', sharing traditional French classics such as 'steak au poivre' or 'crème brulee', and of plenty of gifted flowers, is how the majority of French couples celebrate.
Our recommendations for Valentine's Day in France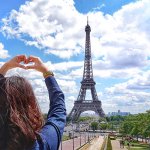 If the idea of strolling through pretty villages and eating delicious French cuisine sounds like the perfect date then you must visit the village which offers just that. 'Le village des amoreux' (the Village of Lovers), attracts couples from all over the world where they enjoy intimate romantic dinners and spectacular countryside walks on Valentine's Day. The celebrations here are far from discreet, instead the village prides itself on being the village of love and honouring Saint Valentin, its patron saint. They even have their very own stamp created for those who enjoy the tradition of letter writing.
If you like the sound of living in France, take this opportunity to have a look at our TEFL courses, where we help you with everything from finding a job to getting a visa.
Valentine's day traditions in Spain
Valentine's Day – El día de San Valentín
St George's Day – El día de  San Jordi
Happy Valentine's Day! – ¡Feliz día de San Valentín!
Traditional Spanish Valentine's Day dishes and celebrations
St. Valentine's Day is not as commercially popular in Spain as it is in the UK or America, yet it's becoming more popular to organise something like a special dinner or to buy a gift to demonstrate your love for your partner around 14 February.
In the Spanish region of Catalonia, it's more typical to celebrate love on el día de Sant Jordi (St George's Day – 23 April). St George (the patron saint of Catalonia) allegedly saved a royal princess from a dragon by chopping its head off. It is said that a rose appeared from beneath the head which George then gifted to the princess. On this day both roses and books are given as a demonstration of love.
Our recommendations for Valentine's Day in Spain
If you are planning on being in Spain this Valentine's Day why not visit Madrid? This vibrant city has a wide range of activities to offer. From taking a romantic stroll in the expansive and beautiful Retiro Park,  to enjoying some patatas bravas and a beer in one of its traditional and buzzing tapas bars, you'll definitely find something to suit your taste. For a dash of passion, how about going to see some flamenco? This dramatic and seductive traditional dance guarantees an authentic Spanish experience.
 If you would like to teach English in Madrid then click here for more information on our TEFL courses.
Valentine's day traditions in Thailand
Valentine's Day – วันวาเลนไทน์ / wan Va-leen-taay
Happy Valentine's Day! – สุขสันต์วันวาเลนไทน์ /sùk sǎn wan waa-len-taay/
Traditional Thai Valentine's Day dishes and celebrations
Valentine's Day, although not native to Thailand, is widely celebrated by Thai people. Along with the usual chocolates and big teddy bears, a popular Thai tradition is to get married on 14 February in a village called Bang Rak or 'the City of Love'. Another tradition is presenting flowers at the feet of the Hindu god at the Trimurti Shrine. The Thai people believe that those who do this on Valentine's Day will find their true love.
Our recommendations for Valentine's Day in Thailand

Thailand, known for its awe-inspiring temples and beautiful beaches, has a multitude of amazing activities on offer and Valentine's Day is the perfect occasion to experience one of them. The capital city, Bangkok, is bustling with tuk tuk's and appetizing street food. As well as top of the range restaurants, Bangkok has its own unique flavour to add. Visit the floating markets, eat some 'Pad Thai' on the famous Khao San road and experience a luxury candlelit dinner cruise along the Chaophraya river (The River of Kings) for an authentic Thai experience.
Immerse yourself in a new culture with our TEFL program in Thailand and you can experience all this first-hand.
Valentine's day traditions in Argentina
Valentine's Day – Día de los Enamorados
Happy Valentine's Day! – Feliz Día de los Enamorados!
Sweetness Week – Semana de la Dulzura
 Traditional Argentine Valentine's Day celebrations
'La Semana de La Dulzura' was inspired by the advert slogan 'A Candy for a Kiss', created by Arcor. The idea is to exchange a sweet or a chocolate for a kiss. 'Alfajores' are a traditional type of Argentinean biscuit which make delicious Valentine's gifts!
Our recommendations for Valentine's Day in Argentina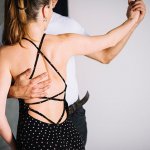 With decorations up and restaurants ready to greet loved up couples, you will find an abundance of traditional and delicious food that's ideal for a romantic ocassion. Make the most of Argentinean culture and indulge in some of Buenos Aires' finest meats  – or as they are more commonly known 'asado' -and local wines. For an even more romantic addition to the day make your way to a 'Milonga' (where the Tango is performed) and watch (or dance if you're feeling brave!) how it's done.
Find out all you need to know about our TEFL program in Argentina here.
To see more exciting TEFL destinations click here.
Let us know your Valentine's Day traditions on our Facebook and Instagram accounts!