16 Oct

Traditional food in the Czech Republic

Are you moving to the Czech Republic to do a TEFL (Teaching English as a Foreign Language) course? Then prepare yourself to enjoy one of the prettiest countries in Europe! Not only you will get to travel around and visit incredible places, but you will also get to learn about their culture through their food. The typical dishes in this country are similar to those in Germany, Austria and Hungary, though of course… with their special local touch. Want to learn more about the yummy things you can try? Carry on reading and find out about the traditional food in the Czech Republic!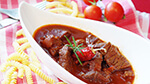 Goulash
This is a stew made from beef or pork together with onions and several spices. It is usually served with knedlik (boiled dumplings) and bread. A very filling and full of protein dish that is ideal during cold days!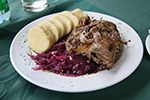 Pečené vepřové s knedlíky a se zelím
(Roast pork with dumplings and cabbage) It is considered one of the most typical dishes in the country and there are different varieties, such as sweet or sour. It can be served either cooked or pickled.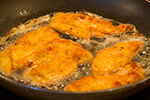 Schnitzel
As with the two dishes described above, this is also a meat dish! It is made of small slices of either veal, pork or chicken flour, coated with flour, eggs and bread crumbs and then fried in oil. It is usually served with mashed potatoes.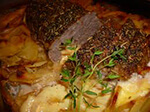 Sekaná pečeně
This dish is basically baked mincemeat. Their version of meatloaf combines pork and beef mince with bacon, onions, garlic and several herbs such as marjoram and parsley.
Česnečka
Perfect during the winter, this garlic soup is incredibly popular. It is served with croutons and a raw egg that is added just before being served so that it is cooked with the heat of the soup. Sometimes it is also served with pieces of sausage or cheese.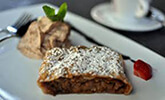 Jablecny Zavin
If you want to finish your meal with an amazing dessert, then we recommend you order this Czech strudel. It is a layered pastry, usually filled with grated apples, cinnamon and raisins, although you can also find other fillings, such as cottage cheese or apricot. It usually comes with whipped cream and vanilla custard on the side.
So now that you know what to order, start looking for the best restaurants in the country and make sure you have enough energy throughout your TEFL course. If you need any information about this, feel free to get in touch with us. We will be more than happy to guide you through the process! Follow us on Facebook or send us an email.