19 Feb

TEFL & Sports in Costa Rica

Are you going to Costa Rica to do your TEFL course and teach English while enjoying one of the most fabulous countries in Central America? In this post, we will tell you about six sports in Costa Rica that you must do while living there! Not only you will get to enjoy some of the most beautiful landscapes of the country, but you will also get to stay fit. Keep on reading!
Kayaking
There's a place in Costa Rica called Península de la Osa which is perfect for those who love kayaking. If you don't have experience doing this sport, make sure you go into the water when the waves are small. This is a very relaxing activity in which you can enjoy a good view of the landscape in Costa Rica!

Paragliding 
If you've always dreamt of flying, it is time to make your dreams come true! There are several spots in Costa Rica where you will be able to practice this sport, though the best one is in Caldera, Puntarenas. With the help of an instructor, you'll get to see Costa Rica from the sky!

Diving
Are you an experienced diver? Then you will be able to explore the oceans of Costa Rica and its amazing wildlife. If you haven't done it yet, this country is the perfect place to obtain your license!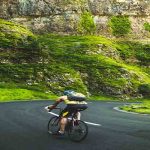 Cycling
Costa Rica has lots of mountains, which makes it a country highly attractive for those who enjoy the adrenaline of extreme cycling. There are several places where you can practice this sport, though the most famous ones are Limón, Bagaces, Nicoya and Arenal.
Rafting
Pacuare, Sarapiquí, Balsa, Chipirró… there are lots of places for you to enjoy this sport, no matter if you are experienced or new to it. For those who are only getting started, there are several guided courses to learn the instructions and the main safety rules you need to know. A great team sport!
Surfing
It is one of the most popular sports in the country given the number of beaches with great waves you can find there. Some of the most popular ones are Santa Teresa, Matapalo, Malpáis, Hermosa and Playa Guiones. If you love the ocean and want to stay fit while having fun, this is your country!
Want to find out more about the TEFL course in Costa Rica? Get in touch with us! Follow us on Facebook or send as an email and we will be more than happy to solve your doubts and help you throughout the process.