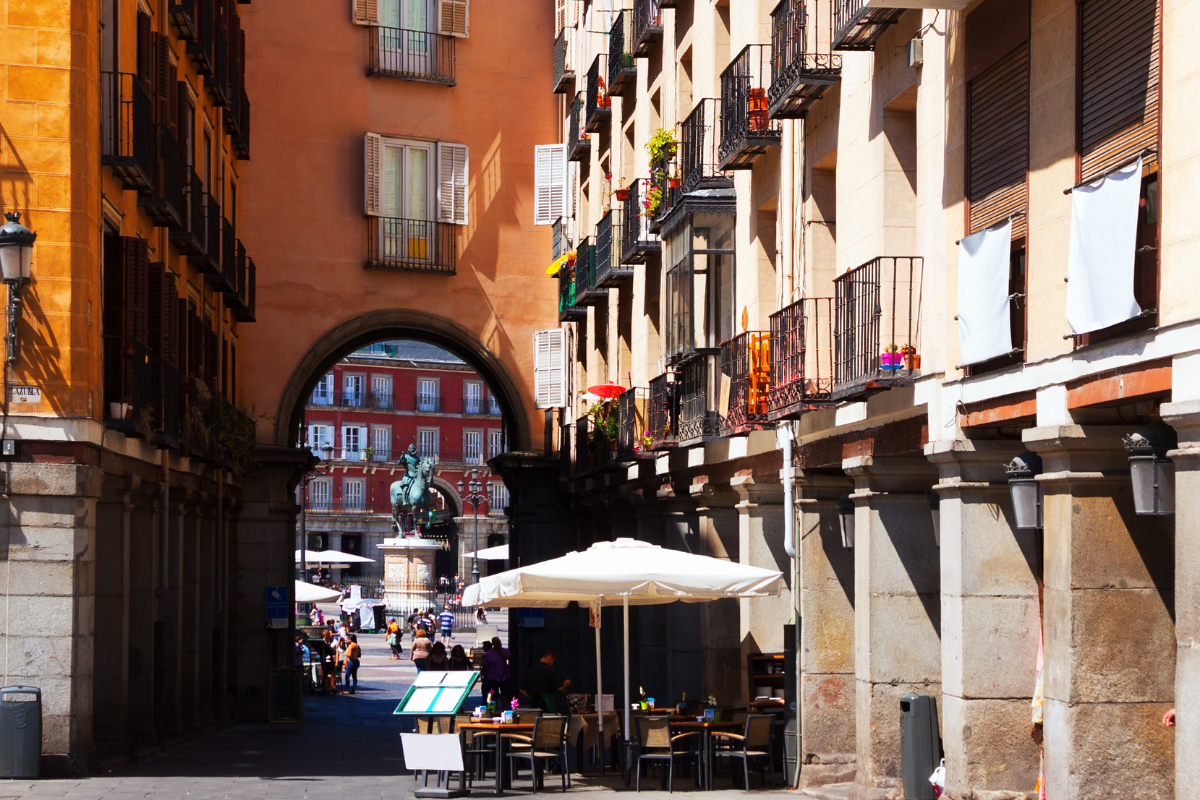 19 Jul

5 Traditional Restaurants to Eat Spanish Cuisine in Madrid

Spanish food is a thrilling adventure filled with historical twists and modern-day surprises. It's a captivating blend of flavours influenced by centuries of cultural exchange and trade with epic civilizations like the Romans, Moors, and even the daring New World explorers. This array of influences has infused Spain's cuisine with a diverse range of ingredients and techniques. So get ready to embark on a mouthwatering journey through time and taste and learn about the top 5 traditional restaurants to eat and enjoy Spanish cuisine in Madrid.

In recent times, Spain has catapulted into the realm of culinary innovation proudly flaunts its numerous Michelin-starred restaurants, each a testament to the country's gastronomic genius. Brace yourself for an extraordinary experience at El Celler de Can Roca in Girona, a culinary masterpiece that has been crowned the best restaurant in the world multiple times.

Here, traditional Catalan ingredients are magically transformed into creative and avant-garde works of art that will leave you in awe. Other notable Michelin-starred gems include the legendary Arzak in San Sebastián, where traditions are pushed to new heights. In Madrid, prepare for mind-bending menus at the enchanting DiverXO, where boundaries are shattered, and innovation knows no limits.

And let's not forget the stunning Azurmendi in Bilbao, where foodie dreams come true amidst breathtaking surroundings. These Michelin-starred destinations are a testament to Spain's culinary prowess and will take you on an exhilarating gastronomic adventure like no other.

Embarking on a teach and travel TEFL program in Madrid is an incredible opportunity to immerse yourself in Spanish culture, history, and of course, its exciting restaurant scene. Madrid is a food lover's paradise, offering an enchanting array of traditional and modern dishes that will tantalise your taste buds. From savoury tapas to heavenly desserts, this city has it all.

Here are five must-try dishes in Madrid that will take your taste buds on a journey like no other.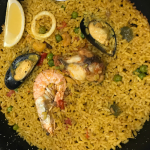 Paella at Restaurante La Barraca:
No trip to Spain would be complete without indulging in a plate of authentic paella. Head over to Restaurante La Barraca, located in the heart of Madrid, and partake in their mouth watering paella. This classic Spanish rice dish is typically made with saffron-infused rice, succulent meats (such as chicken and rabbit), fresh seafood, and a medley of vegetables. The flavours blend together beautifully, resulting in a rich and aromatic dish that will leave you craving for more.
Jamón Ibérico at Museo del Jamón:
For meat lovers, Jamón Ibérico is a delicacy that should not be missed. Museo del Jamón, with its charming ambiance, is the perfect place to try this iconic Spanish cured ham. The ham comes from acorn-fed Iberian pigs and is aged to perfection, resulting in a melt-in-your-mouth experience. Pair it with a glass of local Rioja wine, and you'll discover a harmonious symphony that will make your taste buds dance with pleasure.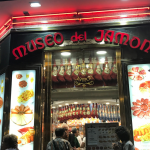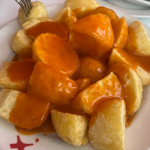 Patatas Bravas at Taberna La Dolores:
When it comes to tapas, Madrid is a treasure trove. One of the most beloved tapas dishes you must try is Patatas Bravas, and Taberna La Dolores is the place to go. Crispy, golden potatoes served with a fiery tomato sauce creates an enticing combination of textures and tastes. Taberna La Dolores, a historic tavern in Madrid, offers an authentic atmosphere where you can dig in to this delightful dish while soaking in the city's electric energy.
Bocadillo de Calamares at El Brillante:
A true Madrid specialty, the Bocadillo de Calamares (calamari sandwich) is a quick and delicious street food option. Head to El Brillante, a legendary spot near the Atocha train station, and sink your teeth into this supreme sandwich. Tender and crispy squid rings, nestled inside a freshly baked baguette and served with a squeeze of lemon, create a simple yet irresistible combination. It's the perfect snack to enjoy while exploring the city or taking a break in Retiro Park.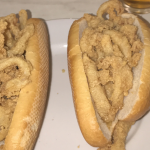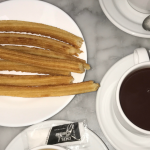 Churros with Chocolate at Chocolatería San Ginés:
No culinary journey through Madrid would be complete without checking out the famous Churros with Chocolate. Make your way to Chocolatería San Ginés, a quaint café that has been serving this delectable treat since 1894. Picture yourself dipping warm, crispy churros into a thick, velvety chocolate sauce. It's pure bliss! This tempting treat is perfect for a leisurely breakfast or a late-night snack after exploring Madrid's nightlife.
Spaniards hold nothing back when it comes to their dedication to quality. From farm to table, every ingredient is carefully selected to ensure an explosion of flavour in every bite. It's a true love affair with food that spans generations. Picture yourself savouring a vibrant tapas dish in a lively tavern, where each bite reveals a symphony of tastes and textures. It's a simple yet profound celebration of the finest ingredients, prepared with time-honoured techniques that have been passed down through generations.
As a traveller embarking on a life changing experience in Madrid, you have a wonderful adventure awaiting you. From traditional Spanish dishes to mouth watering street snacks, Madrid offers a wide range of native foods that will captivate your taste buds. Whether you're partaking in paella at Restaurante La Barraca or chomping on Churros with Chocolate at Chocolatería San Ginés, each bite will provide a glimpse into the rich gastronomic heritage of Spain. So, pack your bags, sharpen your appetite, and get ready for an unforgettable culinary journey through Madrid!